Posted on
By Lizzie Johnson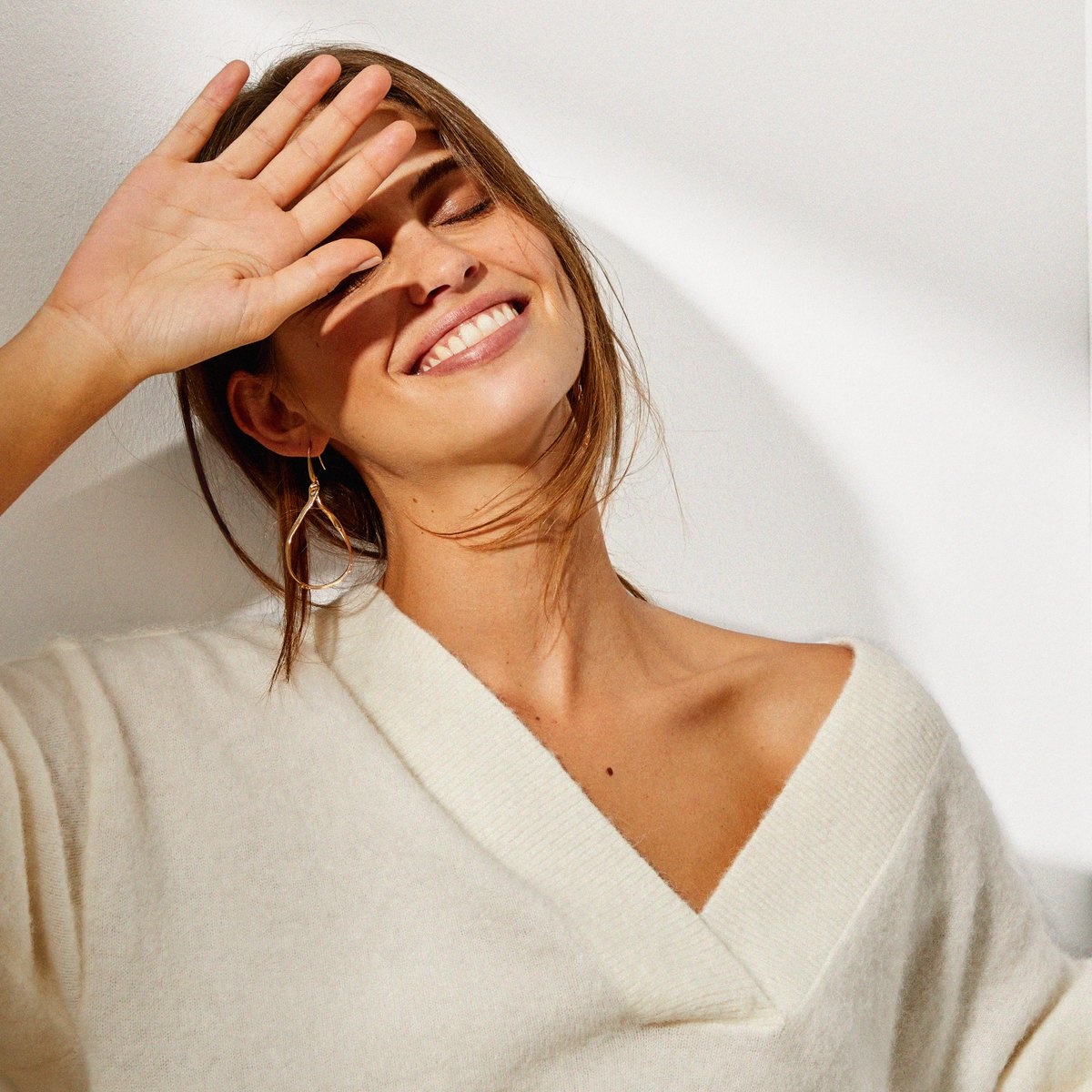 Natura Bisse offers the best in corrective neck treatments with their new Inhibit Tensolift Neck Serum, Inhibit Tensolift Neck Mask, and their best-selling Inhibit Tensolift Neck Cream.
"Your face tells a lie while your neck tells the truth." --We aren't sure who said it, but truth.
The women on my mother's side of the family have a thing with their necks--they don't seem to age well. Whether it's a combination of nature, nurture, a love of the sun, or strong Irish ancestry (the last two do not mix well, by the way), from an early age, watching my relatives pull at their self-proclaimed "turkey necks," my sister and I knew that one day sooner than later, our number would be up. Gobble gobble. When we were teenagers, we even made a pact that we would get neck lifts together when the time came.
Well, like all kinds of things we used to think about related to "when we get older," that time seems to be coming a heck of a lot faster than we anticipated. With an eye to avoid the knife as long as humanly possible (dare I dream, forever?), we have begun researching the best in preventative and corrective neck treatments.
Enter Natura Bisse. It's not a secret that I adore all of Natura Bisse's products. Not only are they elegant and a pleasure to use, but every product in their line is developed in Barcelona, Spain, adhering to stringent European standards of efficacy and safety. And they're still family-owned. Anytime solid science meets luxury, I'm in, and Natura Bisse has never let me down.
Natura Bisse launched two new, fabulously effective neck products this year: The Inhibit Tensolift Neck Serum, and the Inhibit Tensolift Neck Mask. Both combine up-to-the-minute anti-aging technology and feel like a spa-grade treat at home.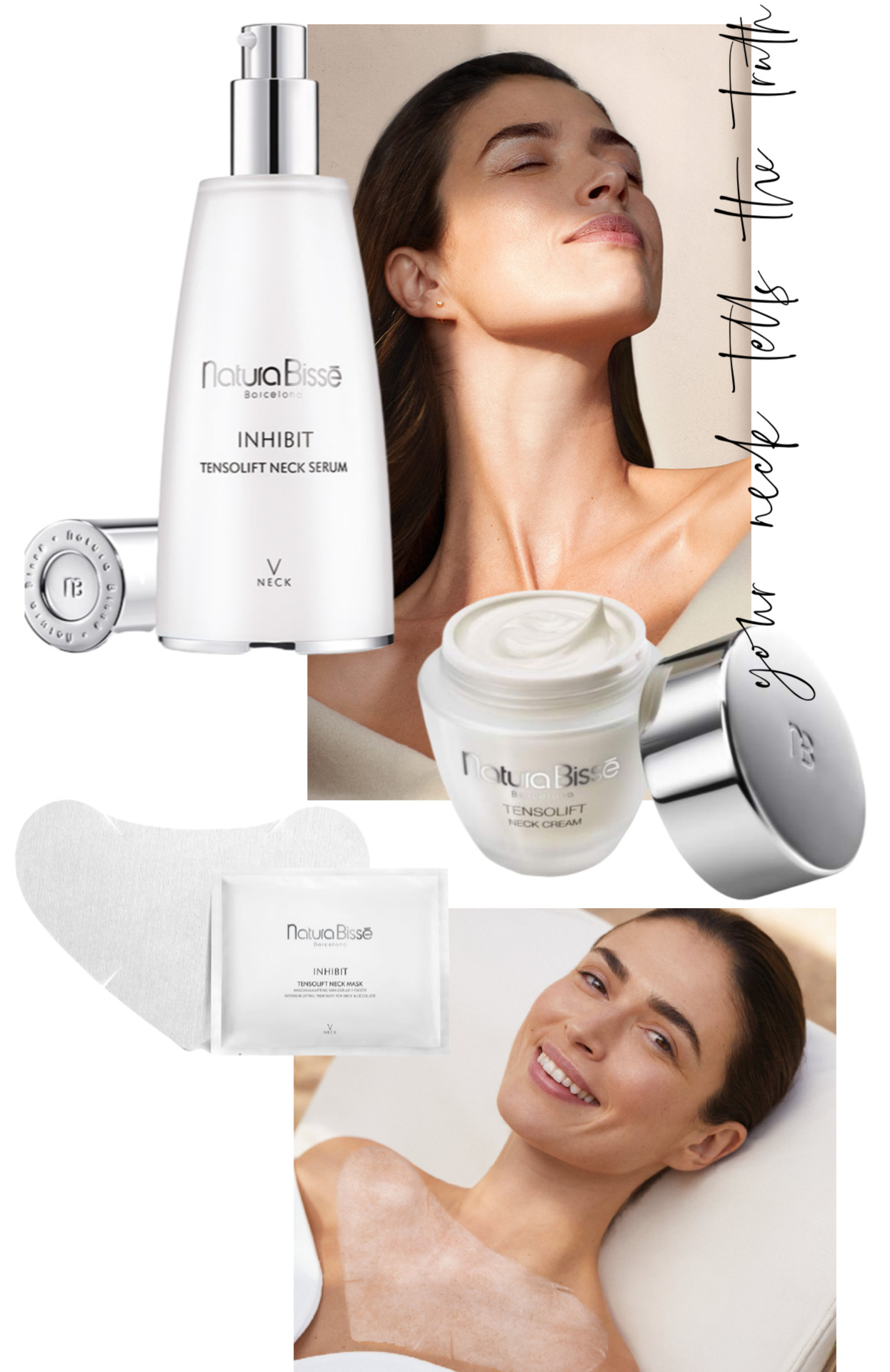 The Inhibit Tensolift Neck Serum is a deep preventative and corrective treatment for long-term use that minimizes double chin, defines the jawline, and reduces those pesky horizontal lines on the neck. Utilizing extracts from the Edelweiss plant and super-potent shiitake mushrooms, the serum promotes collagen production, which has a powerful lifting effect. Hyaluronic Acid and Niacinamide boost hydration and skin elasticity while fading dark spots and promoting overall luminosity. Apply twice daily on clean skin of the neck and decollete.
The Inhibit Tensolift Neck Mask is an intensive, instant lifting treatment for use once a week, or prior to a special event. The mask is made from 100% natural bamboo fibers, and thanks to cross-linked hyaluronic acid (cross-linked means the hyaluronic acid is firmer in consistency and better able to hold elevated levels of moisture in surface skin for longer periods) and Niacinamide, it hydrates, plumps, firms, tightens, and lifts the skin of the neck and decollete in minutes. Its v-shape offers two treatment options: Apply with the point facing downward for a decollete treatment, and use with the point facing upwards to wrap around the neck and jawline area.
In addition, Natura Bisse has one of the best neck creams that we've found on the market to date: the Inhibit Tensolift Neck Cream. A tried and true Houppette customer favorite, the Inhibit Tensolift Neck Cream contains a complex of 5 growth factors, hydrolyzed collagen, hyaluronic acid, mango and shea butters, and Niacinamide to ensure effective lifting, firming, and hydrating of the neck and decollete area. Apply twice daily after the Inhibit Tensolift Neck Serum. And for a limited time, Houppette is offering a value size of this customer favorite.
Thank goodness Natura Bisse is pioneering neck-saving technology. The cutting edge serum, cream, and mask offer hope in avoiding more drastic corrective measures later on, and will hopefully ensure that the only turkey at our family's table in the future is the meal.